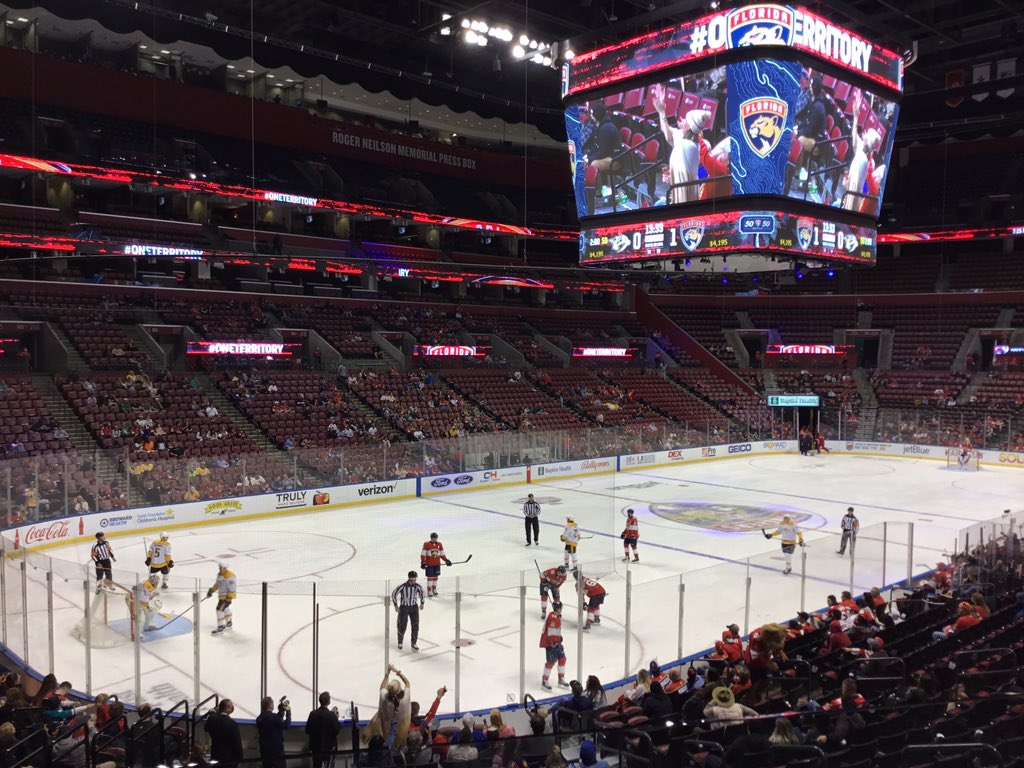 The Florida Panthers take on the Nashville Predators in a preseason game on September 26, 2021.
Bill Zito's stellar work in his first two seasons as general manager of the Florida Panthers has presented Joel Quenneville with a number of problems, but these are the kind of problems that any NHL coach would welcome. Despite external worries about the Panthers' strength in depth, voices in the Roger Nielson Memorial Press Box speculate whether the Panthers have ever had a more difficult lineup to crack for up and coming players.
With lineup spots at a premium, competition for those spots intensifies as training camp gets underway. New faces such as Joe Thornton and (one-time Panthers prospect) Maxim Mamin will get a chance to show the coaching staff what they're capable of. Established players who had a hand in Florida's 2021 success, Juho Lammikko and Ryan Lomberg among them, have a steeper standard to reach in order to regularly crack the lineup. Simultaneously, prospects like Anton Lundell and Grigori Denisenko are eager to prove they're the finished product, ready to fulfill all their potential.
Joel Quenneville has not been one to sit on his laurels when something isn't clicking. That will grant many of these names the opportunity to play in a Panther uniform in 2021-22. Still, many of these players will find themselves at a significant disadvantage without a platform to demonstrate their capability to perform at the NHL level.
Forwards
What should be made of Anton Lundell's absence from Panthers training camp? While the young Finn has been lights out in Liiga, World Juniors, and even the IIHF World Championships, he doesn't have as much experience on North American ice as his rivals for roster spots. There is optimism in the air that Lundell will be an everyday player in Florida, but his spot shouldn't be taken for granted. Without a full training camp, his chances diminish even further. More on this to come in a future post.
Quenneville rolled out what could be Florida's bottom 6 forward lines in Thursday's practice; Joe Thornton centered Mason Marchment and Anthony Duclair on a would-be third line, while Noel Acciari skated down the middle with Frank Vatrano and Patrik Hörnqvist on a possible fourth line.
This leaves the aforementioned Denisenko and Mamin on the outside looking in, along with Finns Aleksi Hepomiemi, Eetu Luostarinen, and Juho Lammikko, who were skating on other lines on day 1 of camp. Luostarinen stepped into Joe Thornton's spot with Marchment and Vatrano when the 42-year old was not available for Sunday's pre-season opening doubleheader. Does this make him Quenneville's "next man up", giving him an edge on a roster spot when the Panthers cut their group down to twenty-three players? More on this to come yada, yada, yada.


Defense



On defense, it seems pretty evident who Florida's first choices will be to round out their top six. The Panthers have six blue-liners under contract for above two-and-a-half million dollars next year, with only Markus Nutivaara among them seeing his contract expiring at the end of the year. The other five in the group, including the returning Aaron Ekblad, Norris contender Mackenzie Weegar, recently extended Gustav Forsling, trade acquisition Brandon Montour, and first year Zito acquisition Radko Gudas, will surely factor into the opening night Panthers lineup if all are healthy. What happens beneath them is where intrigue creeps in.
2021 Waiver claim Noah Juulsen slid in next to Markus Nutivaara on Sunday as Florida opened up their preseason slate, with Radko Gudas missing out with a slight injury. Juulsen has the distinct handedness advantage over some of his would-be blue line competitors if a rightie like Gudas were to exit the lineup with injury. Other defenders on the fringes like Kevin Connauton, Max Gildon, John Ludvig, and Matt Kiersted are all left-handed, while Juulsen is right-handed.

On the other hand, if a leftie were to come out of the lineup, it does seem that 23 year-old Matt Kiersted would be next in line to slot in for Florida on that side of defense. Kiersted was paired with Kevin Connauton on Sunday, who played on his off-side. John Ludvig missed out via injury, while Max Gildon was used in a third-pairing role in the first of two split-squad games vs Nashville. Ludvig, the youngest of the group at age 21, is most likely to be seasoned with playing time in the AHL with Charlotte.
Goaltender
The Panthers' presumed first-choice goaltending tandem of Sergei Bobrovsky and Spencer Knight was all but confirmed by remarks from Quenneville and the performance of Knight in his preseason outing, juxtaposed with Samuel Montembeault's less impressive showing earlier in the day. Offseason signing Christopher Gibson did not play at all but seemed to be healthy enough to back up Knight in the second game. Gibson and Montembeault should split games in Charlotte this year, with Monty getting the first call up should a Panther goalie go down injured. Of course, Chris Driedger started as the #4 goalie for the Panthers in 2019-20, and we all know how that went for him, so Gibson might still get a chance to prove himself in the NHL.
Estimated Florida Panthers Depth Chart - 2021-22 Season
Based on lineups used in training camp & preseason